L.A.G.E.R.
Ladies And Girls Enjoy Rugby.
Come and take a look at our ladies section. There will be a lot more information appearing over the coming weeks
L.A.G.E.R.
Ladies And Girls Enjoy Rugby
The first meeting of Ladies And Girls Enjoy Rugby (L.A.G.E.R) was held in the Plough Inn at New Ollerton on Thursday 13th November 2003
The aims and objectives of the group are :-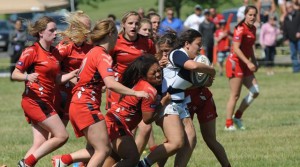 Raise the profile of Ollerton Rugby Club in the community (A list of promotions will appear in the events section) Raise money on a yearly basis, for a chosen charity :- 2003-04 Robin Hood Ward, Kings Mill Hospital.
And last but not least :-
Ensure the ladies have fun in the process :- Tuesday 20th April 2004, Karaoke Night at Winner City, The price is £12 + £3 for transport.
Various pick up points. Any suggestions for social evenings are very welcome.
Members Adele, Julie Coleman, Tracey Cranmer, Ruth Faulkner, Amanda Fillingham, Chris Haining. Sandy Hayden, Joanne Hayward, Hazel Kirk, Sharon Laughton, Lorraine McGinley, Sharon Porsze, Betty Price, Lettie Raine, Pat Siddons, Clare Staley, Alison Wild
L.A.G.E.R. is open to ladies and girls whose fellas are involved with Ollerton Rugby Club. If you want to join, just come along to one of our meetings on the second Thursday of each month. It is a great opportunity to meet other "Rugby Widows" and have fun while doing your bit for the club.
For more information, speak to any of the above or better still, come along to our next meeting in the Plough Inn at Ollerton on Thursday 11th March at 8.00pm. You wil be made very welcome.