Robin Hood Ward Fundraising Visit.
At Easter LAGER ran a prize draw in aid of the Robin Hood Ward at King's Mill Hospital. They raised the fantastic sum of £1,000, and after consulting hospital staff, used the money to buy Play Stations, DVD players, portable televisions, video recorders, television trolleys, some baby play equipment, plus an assortment of Play Station games, DVDs and Videos.
Two representatives of LAGER, and three representatives of the Rugby Club, visited the Robin Hood Ward to hand over the presents to Hospital Play Leader Julie Smith and young patient Alex Parkinson and her mum.
Well done to all LAGER members for such a brilliant effort, and thanks to everyone who supported our first major fund raising event.
Cheers,
Betty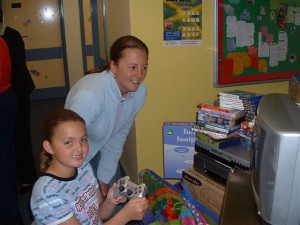 Posted in: Events
Posted by Kev Wild at 11:19 PM Comments (12)